Roadtrip Photos, Part 1 - 5/9/11
I didn't set out on the 48 State Roadtrip to write a book about it, but I did take a lot of notes. I also took a lot of pictures, many of which I uploaded from the road to the blog I was keeping at the time. That blog has since faded into the web ether, but I still have all those old pictures... which cast an interesting new light on the story of the book.
Part 2 coming soon!
The Snake Dock
This is where it all went down - halfway out to the boat launch, my keys wound up in six inches of snake-filled muck under this dock in southern Missouri. Getting them back was... well, you'll have to
read about it
yourself.
NicNac
The Nic Nac Bar & Grill in West Memphis, Arkansas, where I celebrated my victory over the snakes of Missouri with $1.25 Bud Lights with two ex-cons and a pregnant bartender. This tiny, blurry cell phone picture is the only evidence I have that the place exists.
The Cereal Cooler
My milk 'n cereal 'n trail-mix cooler (a.k.a. 90% of the trip's diet), once it was buttressed by a stop at the Kellogg's Factory in Battle Creek, MI.
Ground Zero
In 2003, dust-protection covers were still draped - like mourning veils - over other buildings surrounding the gaping hole in the earth.
Pensacola
The white sand beaches of Pensacola, at dawn, shortly before I was stung by a jellyfish and then nearly arrested.
Plantation
The old cotton plantation near Natchitoches, Louisianna. Still impressive though no one was around.
Corn Maze, Kansas
Damn you, evil corn maze bird. Damn you.
Sturgis Bikers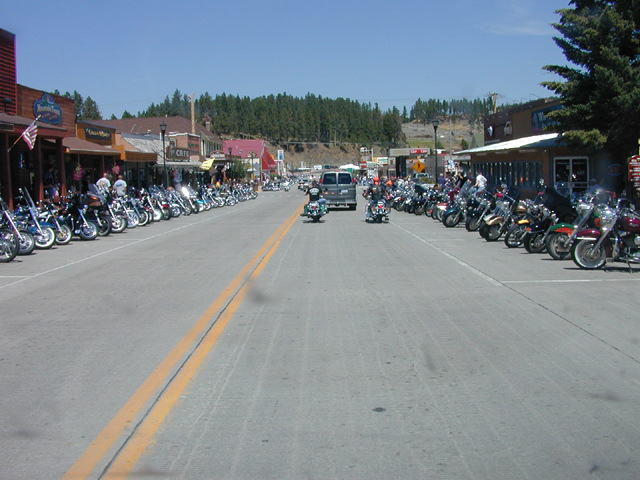 A few of the 500,000 Harley bikers who flooded Sturgis, South Dakota the weekend I was there.
Montana Breakdown
The hill that killed the Spacemobile.
West Aberdeen
The railway switch house where I finally found a phone. After hours of hiking in the 100 degree Montana heat looking for civilization, this was the best I could do. Damn you, AAA map.
Mountain Stream
The Canadian/Montana border pull-off where I finally found my mountain stream.
The Roadtrip
This picture pretty much sums it up.